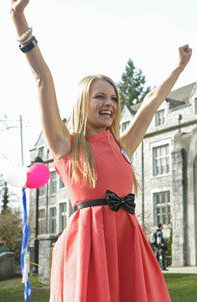 Nicole Patterson is a rival of Dylan Schoenfield. She and Dylan both really want to became queen and get the crown. She is really popular and is good friends of the football team, like Dylan is friends of the volleyteam. Nicole is a cheerleader and maybe the cheerleader captain. Like a cheerleader and friend of the football team many people think she's going to win, but Dylan is more popular. Like Dylan says "She is cheerleader popular" but not "Blossom Queen popular". She was Asher Dumetz's boyfriend.
Ad blocker interference detected!
Wikia is a free-to-use site that makes money from advertising. We have a modified experience for viewers using ad blockers

Wikia is not accessible if you've made further modifications. Remove the custom ad blocker rule(s) and the page will load as expected.