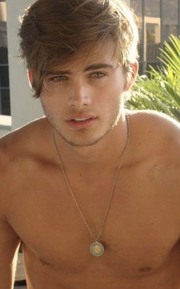 Jordan Nichols
(April 14, 1992) is an American Actor who portrays
Asher Dumetz
. He is from
St. Louis, Missouri, USA
.
Height
5' 11½" (1.82 m) Trivia Graduated from Westminster Christian Academy in Town & Country, Missouri (near St. Louis).
He studied film in Europe while making waves in the modeling industry.
Acting debut was in the production of "Grease" as "Danny Zuko" at the age of 13 with the community musical theatre group, Stages St. Louis.
Father (Greg) and mother (Lisa) own, and are executives officers for, a technology staffing firm near St. Louis, which Jordan has worked for for a number of years.
Attended the New York Film Academy, Los Angeles campus and New york.